Description
Built and engineered for superior performance and long-lasting durability. The patent-pending high flow design showcases stunning, crisp spray patterns, providing a beautiful aerating display. The maintenance-free, energy efficient motor utilizes an innovative cooling shroud design, forcing all water across the motor for maximum cooling and motor longevity.
Maintenance Free, Energy Efficient Design – The oil-free motor is equipped with a cooling shroud to ensure maximum motor life and durability, reducing yearly maintenance costs. An over sized intake screen adds an additional layer of protection to prevent clogging for uninterrupted viewing enjoyment, while providing your pond the benefit of aeration.
Spray Patterns – The PondSeries Fountain comes standard with 3 spray patterns; Classic, Trumpet and Crown & Trumpet. More spray pattern nozzles are available in Single Arch, Double Arch, Double Arch & Geyser, and Blossom. *Classic pattern is pre-installed and does not require a nozzle.
Thermoset Fiberglass Control Panel – Features a fast-acting circuit breaker, which will shut off electrical power in the event of a ground fault. This control panel is designed with 2 programmable 24-hour digital timers, so you can independently program your fountain and lights to run up to 8 times a day. All control panels come set up for fountain and light set. Light sets sold separately.
Power Cord Lengths – Fountains come with a 100′ standard power cord, stainless-steel strain relief and underwater quick disconnect. The strain relief cable prevents the power cord from being damaged if the cord is snagged or tugged. Power cords are also available in 50′ increments ranging from 100′ – 600′ lengths.
PondSeries Included Spray Patterns
Classic Pattern

2 HP Pattern Dimensions:

14'H x 28'W

Crown & Trumpet Pattern

2 HP Pattern Dimensions:

Trumpet: 13'H x 8'W

Crown: 6.5'H x 38'W

Trumpet Pattern

2 HP Pattern Dimensions:

17'H x 7'W
PondSeries Optional Spray Patterns
Single Arch Pattern

2 HP Pattern Dimensions:

9'H x 24'W

Double Arch Pattern

2 HP Pattern Dimensions:

1st Tier: 10'H x 10'W

2nd Tier: 5.5'H x 36'W

Double Arch & Geyser 

2HP Pattern Dimensions:

Geyser: 9.5'H

1st Tier: 6'H x 15'W

2nd Tier: 4'H x 32'W

Blossom (Crown & Arch) 

2 HP Pattern Dimensions:

1st Tier: 8.5'H x 10'W

2nd Tier: 2.5'H x 22'W
What is Included with the PondSeries?
Classic Spray

The Classic Spray Pattern comes pre-installed as part of the PondSeries Fountain. Nozzle is not required. This beautiful full pattern provides relaxing sounds as the water breaks the surface.

Crown & Trumpet Spray Pattern

The Crown & Trumpet Spray Pattern combines the beauty of the arch and trumpet pattern creating a majestic display.

Trumpet Spray Pattern

The Trumpet Spray Pattern provides a bountiful, tall burst of water giving you the tranquil sound of water.

Power Cord w/Disconnect

Standard 100′ power cord, underwater quick disconnect and stainless steel strain relief. Also available in 150′ – 600′ lengths, sold in 50′ increments. 1/2 HP power cord only available up to 200′.

Airmax Control Panel

Airmax Control Panels include two outlets to power both the fountain and optional light kits. Programmable 24-hour digital timers allows you to independently program fountain and light run times.
Optional Features and Accessories
RGBW Color-Changing LED Light Sets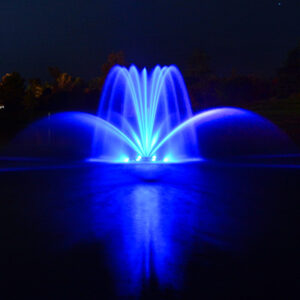 Now you can set the mood by changing the color including: white, blue, green, red and more. The AirmaxRGBW Color-Changing LED Light Set is run by a wireless remote with a range of up to 200 feet. The Wireless remote allows you to change colors, dim/brighten the lights, control flash speed and run up to 9 preset programs. Requires: 2 AAA Batteries (Included).
The adjustable above waterline design and completely sealed light housing ensures a maintenance-free operation. Lights easily clip onto the PondSeries float making for a fast installation with no tools required. All light sets come standard with 100′ power cord and strain relief: 150′, 200′, 250′, 300′, 350′ and 400′ power cord lengths are available. All light sets also include an underwater disconnect and stainless-steel braiding between light fixtures and power leads to protect the power cord. Available in 2, 4 and 8 Light Sets. 3-year warranty.
Power Cord Options
All Airmax floating fountains comes with a standard power cord, however if you have nuisance pond wildlife like beavers, muskrats or nutria that are notorious for chewing, you may want to explore our cord protection options. Replacement cords can be expensive and time consuming so investing in cord protection is a great insurance policy for your fountain. Airmax power cords can be wrapped with our durable PolyFlex protective sheathing, or if you are looking for something more substantial we highly recommend the stainless-steel option for the ultimate power cord protection. Don't forget to ask your Airmax Professional Installer about cord protection for your fountain, you won't regret it!
| | | |
| --- | --- | --- |
| Standard Power Cord | PolyFlex Power Cord | Stainless Steel Power Cord |
Easy Installation
The Airmax PondSeries Fountains are designed to be installed with ease. No tools are required for assembly or when changing nozzles. The PondSeries Fountain is equipped with a stainless steel motor lead with an underwater quick disconnect cord for easy removal of the motor and float.
Control Panel
An ETL listed Airmax Control Panel is included with each fountain and is ready to power a single fountain plus an optional fountain LED light set kit. (Light kits sold separately) Airmax Control Panels are made of Thermoset Fiberglass designed for superior durability in the outdoors. Dual digital, programmable 24-hour digital timers allow for independent fountain and light run times, up to 8 run cycles. A ground-fault circuit interrupter feature will shut off electrical power in the event of a ground fault for added protection. Airmax Control Panels are covered under the system warranty and are available in 115V or 230V.